PMC-LN LOGO LED projector dedicated Renault Laguna II 2 III 3 Latitude Talisman
bardzo wydajne diody LED SMD HIGH-POWER.
couple dedicated projectors LED logo for RENAULT
The offer is a pair, i.e. a set of 2 pieces.
If you need two pairs (ie on 4 doors).
List of models to which the offered lights are fitted :
Renault Laguna II 2001-2007
Renault Laguna III 2008-2014
Renault Latitude 2009-2014
Technical Specification:
The logo is displayed in resolution HD
power 7 wat
Modern, very efficient LEDs LED SMD High-Power
System CAN-Bus - No error messages of burned bulb
waterproof housing
does not interfere with radio FM / CB
fast and easy plug & amp assembly; Play
Works under voltage 12v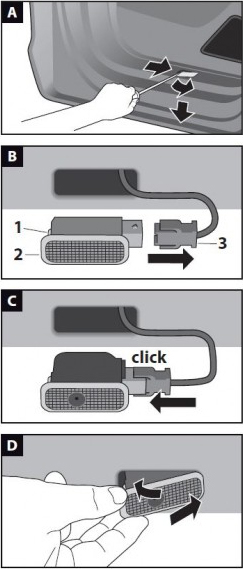 Installation of the lamps is so easy that you can carry it out yourself. To replace LED LOGO lamps, a flat screwdriver or a knap of the lamp is enough.
a. With the tool, we rub and pull out the old lamp.
b. Disconnect the plug from the old light.
c. Connect the plug to the new LED logo light.
d. plug a new LED logo lamp.