PMC-HD1 projector LED LOGO dedicated Honda Accord 2003-2012
bardzo wydajne diody LED SMD HIGH-POWER.
A pair of dedicated projectors LED logo for HONDA ACCORD VII
The offer is a pair, i.e. a set of 2 pieces.
If you need two pairs (ie on 4 doors).
List of models to which the offered lights are fitted :
honda:
accord vii (7), years of production 2003-2012
Technical Specification:
The logo is displayed in resolution HD
power 7 wat
Modern, very efficient LED SMD High-Power
system CAN-bus - no error messages of burned bulb
waterproof housing
Does not interfere with FM / CB
fast and easy plug & amp assembly; Play
Works on 12V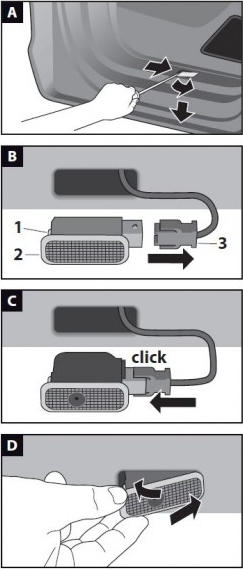 Installation of the lamps is so easy that you can carry it out yourself. To replace LED LOGO LOGO Summary a flat screwdriver or a knap to undermine the lamp
a. With the tool, we rub and pull out the old lamp.
b. disconnect the power of the old lamp
c. connect a new LED lamp Logo to power
d. plug a new LED logo lamp.
Długość towaru w centymetrach
Wysokość towaru w centymetrach
Szerokość towaru w centymetrach