PMC-MINI LOGO LED projector dedicated MINI R36 R56 R57 R58
bardzo wydajne diody LED SMD HIGH-POWER.
A pair of dedicated projectors LED logo to MINI
The offer is a pair, i.e. a set of 2 pieces.
If you need two pairs (ie on 4 doors)
List of models to which the offered lights are fitted :
mini:
Cooper One S
Countryman
Clubman
Roadster
R36
R56
R57
R58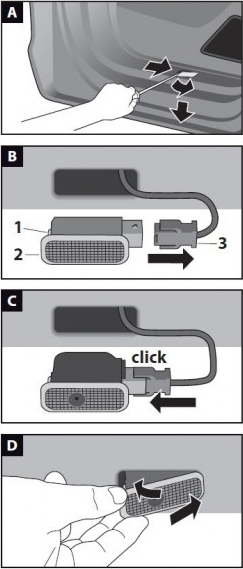 Installation of the lamps is so easy that you can carry it out yourself. To replace LED LOGO LOGO Summary a flat screwdriver or a knap to undermine the lamp
a. With the tool, we rub and pull out the old lamp.
b. Disconnect the plug from the old light.
c. Connect the plug to the new LED logo light.
d. plug a new LED logo lamp.
Długość towaru w centymetrach
Wysokość towaru w centymetrach
Szerokość towaru w centymetrach